This question was submitted by an HSA Edge reader. Feel free to send in your question today to evan@hsaedge.com.
I will be going on Medicare soon however my spouse will not be eligible until 7 months later. She will continue on COBRA coverage on my old plan. Can I use my HSA account to pay premiums entirely for her COBRA plan? Several sites I have searched on state only the amount over 10% of income like a medical deduction.
---
Being on Medicare does not affect how money in your HSA can be spent. One of the great things about HSA's is that your contributions remain yours forever, so you can keep them and spend them how you like. This is true whether you change insurance, employers, or even retire and go on Medicare. The real question here is whether you can treat your spouse's COBRA continuation coverage as a qualified expense and pay it from your HSA.
We know that HSA contributions can be a great safety net, as they can be used to pay for insurance premiums when you are receiving unemployment benefits or are on COBRA coverage. We also know that all of the benefits of your HSA extend to your spouse and dependent's qualified medical expenses. Luckily, these two uses combine such that you are allowed to pay for COBRA coverage for your wife or dependents.
More explicitly, IRS Form 969 calls out the COBRA coverage for spouses in the "Insurance Premiums" section: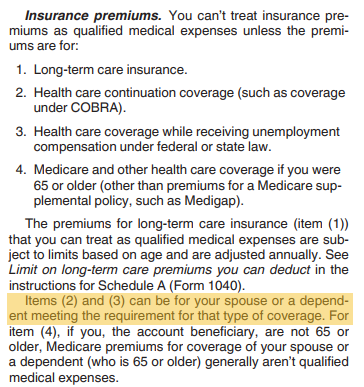 Thus, I see no problem with using HSA funds to pay for your spouse's or dependent's COBRA continuation coverage. This is another great benefit of HSA's in that they can be used to provide for your family when they are in need or need care. As an aside, that 10% rule you mention generally applies to deducting large scale medical expenses compared to your income, which is separate (and not as useful) as an HSA.
---
Note: to help track your spending on eligible COBRA insurance premiums, please consider my service TrackHSA.com for your Health Savings Account record keeping. You can store purchases, upload receipts, and record reimbursements securely online.