Jan 2015 update: I am finishing work on TrackHSA, a free service to help manage your Health Savings Account. Track purchases, upload receipts, and record reimbursements for all HSA purchases to help you minimize your taxes and satisfy the IRS. Sign up today.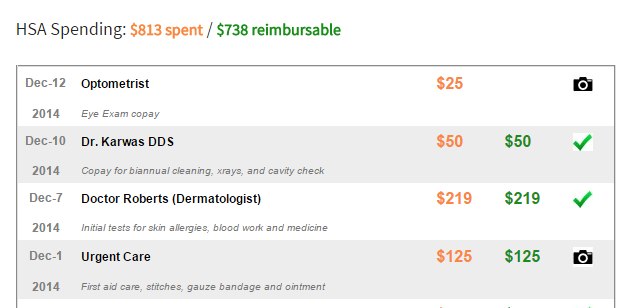 There are a number of reasons to setup a simple, organized system for maintaining your health savings account records.  Due to its tax advantaged nature, your HSA has implications for your income taxes, so it is important to keep proper records.  If – God forbid – you are ever audited by the IRS, you will already have all relevant information at hand. Perhaps more importantly, this system allows you to track your unreimbursed qualified medical expenses. This ensures you never pay too much in tax while knowing how much you can pull from your HSA, tax-free, in the event of an emergency.
The major complication with an HSA is the length of time between contribution, spending and reimbursement. Depending on your age, you could have 40+ years until you need to provide proof of spending. This especially applies if you are young and saving for the long haul. For example, if I pay for QME out of pocket at age 25, I may not need to reimburse myself – depending on my financial condition – for that expense until I am 55. This is part of the strategy of using your HSA as an ATM.
Luckily, there are simple (and free) cloud-based solutions that can help retain your records. I use Dropbox, and Google Drive recently launched. These will backup any and all information on offsite, secure servers. In theory, this is a fail safe and secure way of backing up your HSA receipts. I also back up this same information on my external hard drive but this is prone to fail.
My System
I update my records 4 times a year, at the end of each quarter. I can usually accomplish this record keeping in less than 1 hour per quarter. Sometimes I cheat and add QME receipts as they come in so I don't lose them, but would like to move this to a once a quarter filing system.
In my Dropbox folder, I have a folder called HSA with the following subfolders:
Statements
Unreimbursed QME
Reimbursed QME
Here is what this folder looks like.  The green check marks mean it is synced to Dropbox and up to date.

The function and characteristics of each folder are such:
Statements– I download my quarterly statement from HSA Bank, my HSA provider. This details all account contributions and withdrawals that occurred in a given quarter.  It is a good reference and could help reconcile your account as needed.

I label my statements in the format [HSA Statement 1 2012], where the first number denotes the quarter.
Unreimbursed QME– I keep copies of all invoices or receipts for QME that I have incurred throughout the year.  In this folder are items that are unreimbursed.  In other words, I paid for medical care out of pocket instead of using my HSA.  Doing so allows my HSA to grow and compound.  I save each receipt by either scanning (old school) the invoice or taking a clean picture (new school) using my camera.  I name the files in the format of [Date-Company-Amount] (e.g. 2012-12 Kaiser $45) so I can sort through them quickly.

A nice benefit of this system is that the sum of all invoices in the Unreimbursed QME folder equals the amount I can pull from my HSA tax-free.
Reimbursed QME – This folder contains copies of invoices or receipts that I have paid for with my HSA.  There are two ways that I can pay using my HSA.  The simplest way is to buy using my HSA Bank debit card.  This is straightforward and doesn't require any further accounting; the receipt begins and ends in Reimbursed QME. However, that money is now gone from my HSA.

Alternatively, I can purchase the medical care out of pocket using cash, credit card, or check.  Since the purchase was considered a Qualified Medical Expense, I can reimburse myself for that purchase from my HSA (tax free dollars).  This is effectively the same as paying for the QME with my HSA.  However, I may choose to delay that reimbursement so my HSA funds can grow.

Using this method, once the reimbursement ($ transfer from HSA to my personal checking account) occurs, I simply move the invoice from the Unreimbursed QME folder to the Reimbursed QME folder.  This finalizes that QME, and my new (lower) amount of UQME is reflected by the contents of that folder..
Excel Spreadsheet – I created a simple Excel spreadsheet that summarizes all out of pocket spending for qualified medical expenses.  I update this sheet when I 1) incur new UQME cost (add) or 2) reimburse myself for UQME (reduce).  This sheet conveniently shows a total for UQME, or the amount you can withdraw from your HSA, tax free. That total should balance with your receipts in your UQME folder.  You can download a free copy here.
In the end, do whatever works for you. Just make sure you have all needed information, especially the Unreimbursed QME portion.  This is money you are entitled to withdraw, tax free.  If you aren't tracking it, who is?
There are only a few folders and a few actions that I perform once a quarter. In return, I have piece of mind of knowing the value of my accounts as well as how much I can pull from the HSA in case of emergency.  I am also covered in the event of an audit.
Let me know if you need any help getting your system setup.
Tweet