This question was sent in by HSA Edge reader Dale. Feel free to send in your own question.
I was only eligible for an HSA in 2018 for July and switched health plans immediately after my contribution. I contributed $685 which is more than 1/12 of my allowable amount ($371). If I request an Excess Contribution Reversal for the entire $685 + interest, am I allowed to consider my entire $685 as Other Income and just pay income tax on it?
---
Making and Removing Excess Contributions
Each year, the IRS determines the contribution limit, or maximum amount, one is allowed to contribute to the HSA. However, note that your contribution limit may differ from the IRS limit. Reasons that this may differ are:
Anything above your personally calculated contribution limit is considered an excess contribution. Excess contributions are not good – in effect, you have exceeded the tax deduction afforded you by the IRS. The IRS likes to collect what is due to them, so, understandably, frowns on this.
You can remove excess contributions from your account in the tax year they occur without penalty.
Luckily, there are options to correct Excess Contributions after they occur. This involves removing your excess contribution from your HSA before the tax date of a given year. For most people, this is mid April, though extensions do apply. If excess contributions are not removed, a 6% penalty is due each year for as long as the excess contributions remain in the account. This can add up over time.
You are correct that you can remove the excess contribution for 2018 up until your tax filing deadline (with extension). Per Form 969: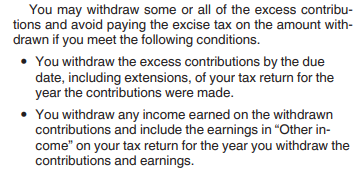 Removing non-Excess Contributions
However, one very important point is that you cannot just remove funds willy nilly from you HSA. In your above example, you contributed $685 compared to your contribution limit of $371. This means you have a $314 excess contribution that can be removed. The whole $685 cannot be removed without penalty.
Any funds removed from your account that are not excess contributions face penalty and tax.
The IRS is firm on the fact that once funds go into the HSA account, they are to be used for medical purposes. Besides excess contribution correction, any removal of funds from the account are considered "Non Qualified Deductions". Per IRS 696:

Note that the above text "not used for qualified medical expenses" is incredibly broad. It includes any sort of scenario, other than removing excess contributions, where HSA funds are coming out of your HSA and not being spent on qualified medical expenses. This comes up often from readers as they assume they have flexibility to contribute / distribute from the HSA as they see fit. The IRS does not agree, and once the money goes in, it is not easy to just take out. Thus, care and planning should occur for calculating how much to contribute to your HSA during a year.
Calculating Non Qualified Distribution Penalty
Removing funds from the HSA not spent on medical expenses is costly. If this applies to you, see our article "Can You Cash Out An HSA?" for options on getting the money out.
If the penalty is indeed due, you will need to pay both tax and penalty on the amount. This sort of makes sense – the IRS is 1) undoing the tax benefit you got from the initial contribution and 2) penalizing you for not following the rules. This assessment occurs in Part 2 of Form 8889 under "HSA Distributions". Here is what that section looks like:

As you can see above, assume you have a non qualified or "excess" distribution that came out of your HSA. #1 indicates where your non qualified distribution is added to income and is taxed. #2 indicates where the 20% penalty is calculated and added to your tax bill due.
Overall, it is an expensive way of getting your money out. Plan accordingly.
---
Note: If you want help calculating your distribution penalties and preparing your HSA tax forms, please consider my service EasyForm8889.com. It asks you simple questions and fills out Form 8889 correctly for you in about 10 minutes.